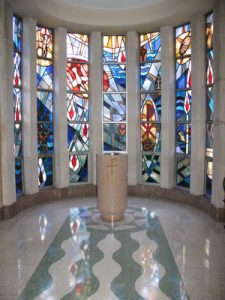 Baptisms are the second and fourth Sundays after the 11:00 Mass by appointment only.
Parents must attend the baptismal preparation program. The Baptism Class is offered  is offered 5 times each year, usually on the third Sunday of January, March, May, August and October. Classes meet in the Parish Hall immediately following the 11 a.m. Mass and last about 1 hour. You are welcome to bring the baby along. Please contact the rectory office at 614.488.6149 or stagatha@st-agatha.org to register for this class.
Click here to complete the online Baptism Registration
Baptismal Garments – Some of the ladies of the parish make a white baptismal garment with an embroidered baptismal symbol on the front. This is presented to each infant baptized here at St. Agatha. If you would like to help with this at-home project, please contact Paula Borton (614) 486-3964.