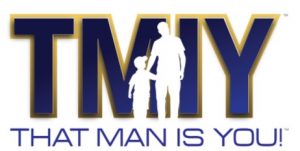 Calling all adult men,
"That Man is You!" is an interactive, multimedia men's program focused upon the development of authentic Christian male leadership. It helps men improve their relationship to God, to their spouse and to their children.
"That Man is You!" honestly addresses the pressures and temptations that men face in our modern culture, especially those relating to their roles as husbands and fathers. The program harmonizes current social and medical science with the teachings of the Church and the wisdom of the saints to develop the vision of man fully alive!
"That Man is You!" has been successful at attracting large numbers of men of all ages, and all circumstances of life, including younger men still actively parenting, and then transforming their spiritual lives.
Consider joining us for this meaningful and life transforming men's ministry.
Wherever you are in your spiritual life, Jesus Christ wants to encounter you right there and take you further. TMIY can help you do that.
All men are welcome
Fall 2023 – September 9th – December 9th, 2023
Saturday's Social 6:30am
Program 7am – 8am
OBJECTIVES: Enter into the spiritual battle between light and darkness. Discover the light that has come to overpower, expose and expel the evils of the world and within our own hearts. Dissect the seven deadly sins and learn the counteracting virtues of the saints. Don't rely upon another organization, entity or individual to solve the problems in the world, the Church, your job and your family. Become your divine destiny. Become the light of men! That Man is You!
Spring 2024 – January 20th – April 27th, 2024
Saturday's Social 6:30am
Program 7am – 8am
OBJECTIVES: Journey with us through Lent into the Holy Land as we take you places TMIY has never gone before. We will be leaving the TMIY stage behind and filming on location in Nazareth and Jerusalem as we enter into Christ's Agony in the Garden, Scourging, Crowning of Thorns, Carrying of the Cross and Crucifixion. With reflections from over fifteen guests, we aspire to enter into the Mysteries of His Passion. The greatest fruit of your contemplation will be your own transformation. Nonetheless, there is no Christianity without the Resurrection! We will end with both hope and compelling evidence that Our Lord is truly risen!